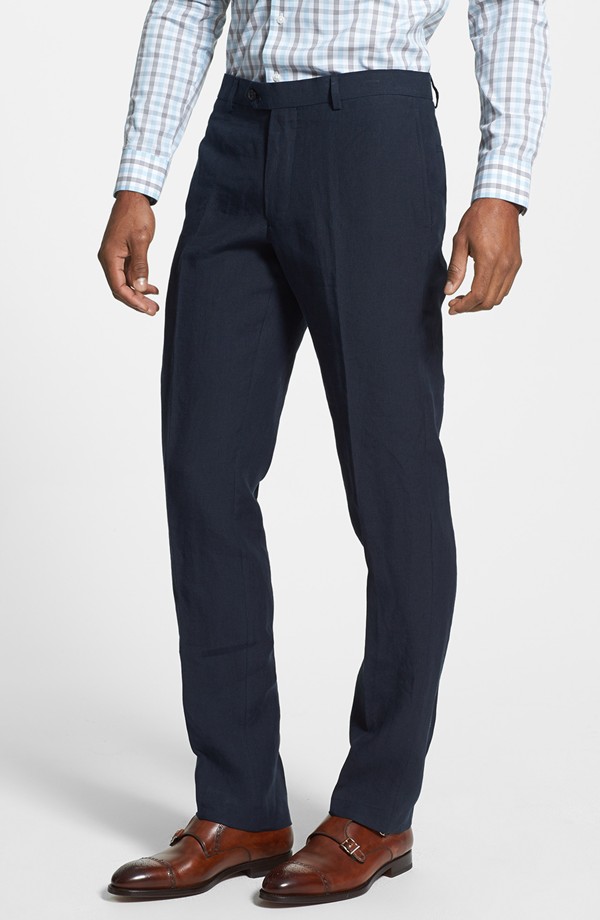 Brown shoes are the most versatile shoe color. This is surprising to many men who think black shoes go with everything. They do not, but I will say it is far easier to pair the right sock with a black shoe than it is with a brown shoe. No one has yet to ask me what socks go with black shoes. Everyone knows black shoes simply need black socks. Easy peasy! Black socks are sold EVERYWHERE, and black is basically always black. Yes, there is faded black and rich saturated black, but those are really the only two options, and you rarely see a faded black sock or shoe for sale.
Brown on the other hand is a nuanced color. You have dark brown, darker brown, reddish brown, greyish brown, light brown, lighter brown, tan, and so on. This would not be a big deal if stores had an array of brown socks to go with the different hues of brown shoes, but they don't. Rich brown shoes are aplenty, but rich brown socks are hidden treasures. All my clients love the transition to the brown dress shoe lifestyle until it comes time to pick the right sock. I am constantly being asked what socks go with brown shoes. So, let me help you…
The Sock Rule – How To Pick Out The Right Color Sock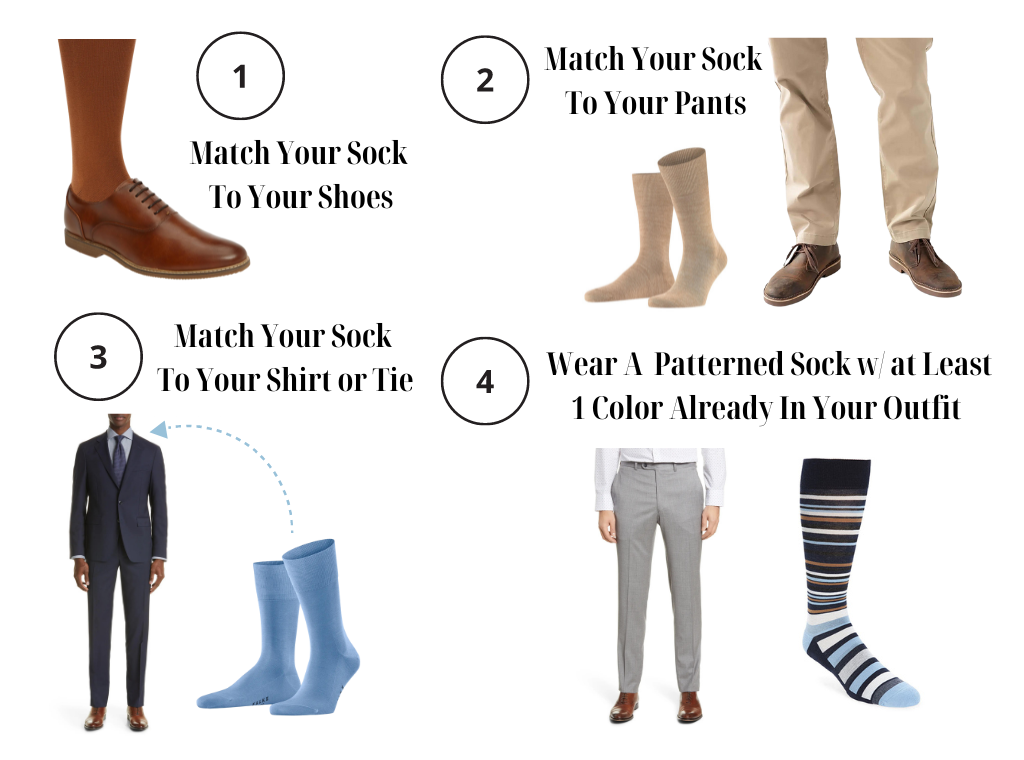 GQ produced an article that says pairing (bright) blue socks with brown shoes is the way to go. I am going to disagree with this. Yes, blue socks can be paired with brown shoes as long as there is blue in the rest of the outfit. But if there isn't, that blue sock will most likely look unintentional or "try hard." When choosing the right socks to wear with brown shoes, you need to follow the rules I use for all sock pairings. Here are the basic sock rules…
Pick a sock that matches or complements the color of your shoe.
Pick a sock that matches or complements the color of your pants.
Pick a sock that matches the color of your shirt or tie, and is in contrast to the color of your pants and shoes, aka the sock that pops.
Pick a patterned sock that contains at least 1 color you have already used in your outfit.
A patterned sock is my favorite choice. As long as one of the colors in your patterned socks matches your pants, shoes, or shirt, it will look intentional and fun.
Bonus! You can wear a sock of any color if you are sporting a monochromatic outfit.
What's With All The Beige Socks?
For some reason, stores have an endless selection of dingy beige socks for your brown dress shoes. I dislike pairing most of these beige socks with brown shoes. In general, beige is not a flattering color — if you are Caucasian, it looks like your feet are saran-wrapped in panties, or you have prosthetic ankles. I can't have that, so you will notice I selected a couple of quality beige options. I only want you to pair these beige socks with brown shoes when you are wearing a beige pant. This follows my #2 sock rule. When you are wearing khakis with your brown shoes, a beige sock is a solid sock choice. But other than that, I skip beige socks with brown shoes.
Can You Wear Black Socks With Brown Shoes?
This is another question I get asked all the time. So I just have to mention that, no, you cannot wear black socks with brown shoes. The exceptions to this statement are too nuanced to explain, so I would rather you just didn't do this. You also shouldn't be wearing white socks with brown shoes. White socks always look too casual or even childish when paired with a brown shoe. Even a white sock with a casual brown sneaker feels a little bit like all your good socks are in the laundry.
What Socks To Wear With Brown Shoes
Finally, the juice! The best socks to wear with brown shoes are brown socks. Yes, they are hard to find, but I did a serious search and found a bunch of options for you! Many of them can be worn with both casual shoes as well as dressy brown shoes. Keep in mind, a brown sock does not have to match a brown shoe perfectly. Contrasting or complementary browns can be a great look. As for the printed sock options, they will go well with an outfit that shares any of the colors in the print, as I explained above. You will notice some all-blue sock options – you will wear these anytime you are pairing navy pants with your brown shoes, or have any blue in the shirt you are pairing with your brown shoes.
What Socks to Wear with Brown Shoes From Years Past
I originally wrote this post years ago and update it regularly due to its popularity. I've left these photos below for nostalgic purposes. Whenever I update older posts, I love to hold on to a collection of images as a bit of a time capsule so we can watch how our style evolves.