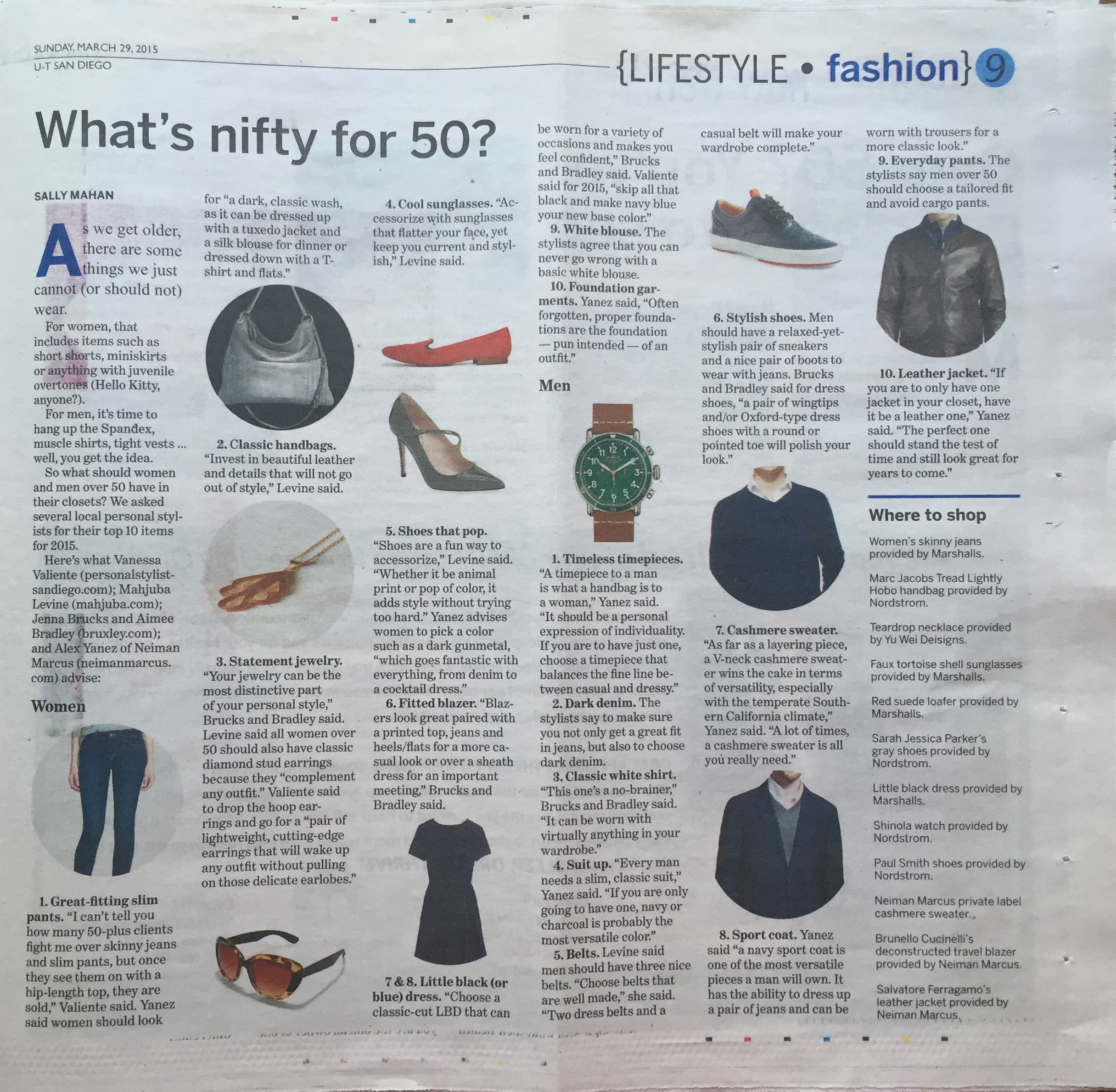 Last month, the San Diego's Union Tribune interviewed me and other prominent stylists in San Diego on fashion for men over fifty. Specifically, they wanted to know what ten essential garments I recommend for this age group. Now that the article is published, I am happy to share the full list with you. Here are the top ten garments that I recommend for guys over 50…
5 Pocket Casual Pant (Not Jeans)
Brands like
AG
and
J Brand
are making some yummy soft and incredibly flattering 5 pocket pants that kind of look like jeans and kind of look like chinos. They are neither. They are a 5 pocket casual pant. Many men can get away with wearing them to work.
Printed Slacks
It is time to step out of the bore fest of solid colored slacks, and head towards a print. Try a checkered, or a window pane pattern, and pair with a solid colored shirt. If you are feeling manly, pair with a textured or subtly printed dress shirt.
Party Suit
The Long Sleeve Henley
Ditch the childish Tee and turn to the
long sleeve henley
for a grown-up casual shirt. If you get too warm, push up the sleeves.
Slim Lace Up Boots
We're not talking Doc Martens or yellow Timberland boots. We are talking
John Varvatos
or Too Boot New York. These lean and comfortable boots will ground your weekend look or casual work attire. Just remember to wear long sleeves with a boot. Feel free to push up or roll those sleeves, but you need a weightier shirt to balance out the heft of a boot.
The Right Socks
Stop wearing your athletic socks with your nice shoes. Get the right socks to go with your outfits. Maybe you need navy, black, tan or
printed socks
.
A Printed Shirt (Not Stripes, Plaid or Paisley)
With stores vomiting the same prints on you year after year, you must pounce on those
unique prints
when they show their faces. Hugo Boss, Ted Baker and
Armani Collezioni
are often putting out unique textures and prints on men's dress shirts. And don't be scared of younger labels like
Penguin
and
Zanerobe
that put out fun prints each season.
Dressy Sneaker
A dressy sneaker can be vaguely defined as slim sneaker often that lacks a white sole. It generally won't be converse, Nike or New Balance. (You are not Jerry Seinfeld.) Your dressy sneaker will be from
Tretorn
,
Diesel
,
Paul Smith
or another style conscious brand. They will be paired with slimmer pants.
A Slim Tie
The casual San Diego vibe is creating a hunger for dressed up style. Get a slim tie to perk up your dress shirt and slacks.
A 2.5 inch wide tie
works with most people, but when purchasing a slim tie, think of your own stature. The taller and wider you are, the thicker your tie can be. If you are short and thin, you can go as low as an inch-and-a-half wide tie.
Tan Oxford Shoes w/ Matching Tan Leather Belt
Tan oxford dress shoes
go with far more slacks and suits than its black counterpart. Tan or light brown dress shoes go with navy, charcoal, light grey, brown, beige and more. Even when you are unsure if the outfit is working, by tucking in your collared shirt and adding that matching tan belt, it will look like you know what you are doing. Tan dress shoes can also go with nice jeans, whereas black dress shoes seem dated and heavy with jeans. Just remember to always tuck in your shirt when you wear dress shoes, even with jeans.