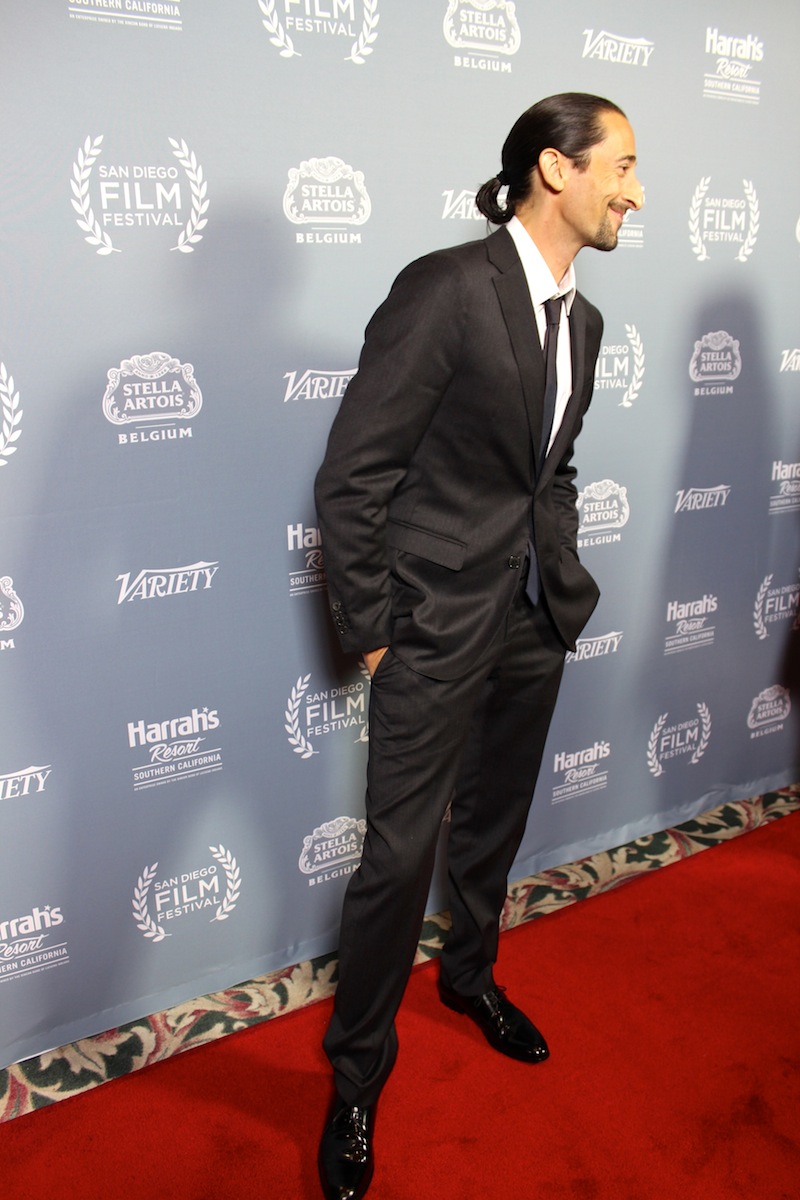 This week, I have the pleasure of attending the red carpet events at the San Diego Film Festival to select the best dressed fellas to inspire your own personal style. As you may know, established Film Festivals are all about dressing up in a way that shows off your character. The timing is perfect with holiday season parties coming. I know many of you struggle with how to dress up without looking like you're going to work.
Adrien Brody Wears A Sleek Suit
Adrien Brody attended the San Diego Film Festival to promote his timely and touching film, Septembers of Shiraz. At the film's showing, he sported a very sleek dark suit, white collared dress shirt and matching skinny tie. It's a traditional look, but the lean fit of the suit, the sheen of his shoes and the ponytail gave it that party spark. If you also prefer a more traditional party look, I recommend getting a suit you only wear to parties. Sure, it is probably appropriate to wear to work or work functions, but don't. This way you will always feel like you are going to a party and not a meeting when you put your limbs into it.

Lázaro Menezes Wears Everything
A quick way to set yourself apart and get in the festive mood is to step away from the suit, the slacks and dress shoes and dive into the fun garments like actor Lazaro Menezes did with his printed shirt, velvet sport coat, sharp vest, matching plaid accessories, and brown tough man boots. You'd think piling on all these stylish bits, and mixing brown and black would look ridiculous, but he pulled it off beautifully. Why? Everything fit him perfectly. And the brown boots work with the mainly black outfit because it speaks to the red of his bow tie and pocket square. Brown and red are cousins. It's the perfect mess of party style.

James O'Brein Wears A Hat And T-Shirt
Another easy way to dress festive is by pairing unexpected items with your suit like Director James O'Brien. He showed his Australian roots on the red carpet this week by sporting a hat with a handkerchief tied around it. He further mixed up his look by adding a unique necklace and ditching the dress shirt. It is a rare occasion when a v-neck tee works with a suit, and this may be one of them. If you want to try this at home, I recommend using a very nice crisp t-shirt, preferably from a designer like Armani or Theory who embody this style of t-shirt perfectly.