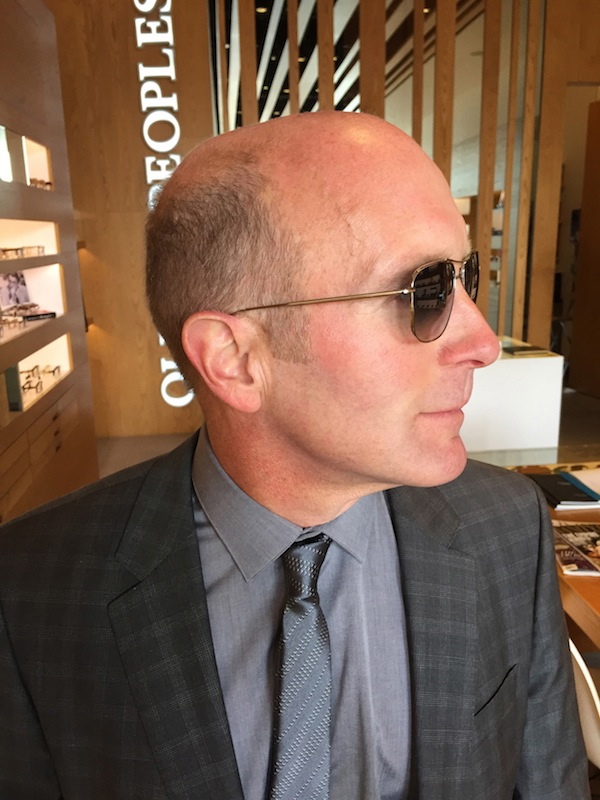 suit: Boss, shirt: Lanvin, tie: Lanvin 
Despite the world getting more casual, most men still need to don a suit and tie every now and then. This can be one of the most challenging wardrobe choices a man can make. Allow me to make it a little easier for you. Let's talk about how to match your tie to your suit.
Match The Sheen Of Your Suit
When you match the sheen of your tie with the sheen of your suit and shirt you will look amazing. If you have a matte suit and a matte shirt and then you add a tie with a high sheen, it will look awkward. It is imperative to match shinier ties with shiner suits and shirts, and match matte ties with matte suits and shirts. Matte ties are usually made with cotton or wool blends like this Rag & Bone tie I put on a client last week. Some silk ties can look a bit matte as well, depending how it is woven and teated, but most silk ties will be shiny. Polyester also tends to be shiny. I should add, that I prefer a matte suit look over a shiny suit look.
An exception to my matte-with-matte advice is the slightly shiny Lanvin tie that I paired with the matte wool Hugo Boss suit, pictured above. The reason it works is because the tie's colors, texture of its weave, and print are mimicked in the suit's check and the grey dress shirt. Coincidentally, the shirt also happens to be Lanvin.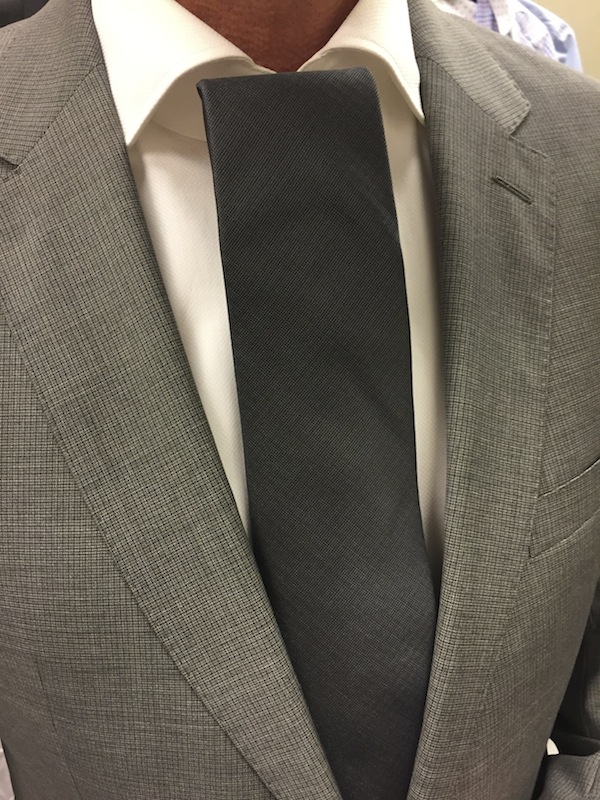 suit: Boss, tie: Boss, shirt: Ted Baker
When To Wear A Solid Colored Tie
A solid colored tie is incredibly chic. I love to pair a solid colored tie with a printed shirt or patterned suit. Keeping the matte vs shiny rule in mind, simply pick out a solid colored tie in the shade of one of the colors in the print of the shirt or suit. Vióla, you are stylish and cohesive. This is the easiest path to take if you have no idea what you are doing.
You can also pair a solid colored tie with other solid colored pieces. It looks best when the solid colored shirt and the suit have a rich texture to keep the combination from being too boring. Pictured above, I have paired a solid colored, yet textured, charcoal grey Hugo Boss Tie with a white dress shirt and a medium grey Boss suit with hints of charcoal grey in its weave. Something fun you may notice is, despite the tie being black, it acts as a pop of color. I use the term color loosely as we all know black is the absence of color.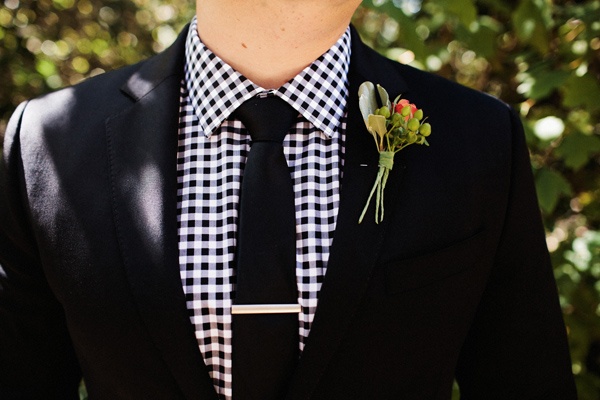 Image Source: Styling On
How To Mix Patterns – Printed Tie With With A Printed Shirt
The most successful pattern mixing occurs when you mix contrasting patterns, not similar patterns. Don't match polka dots with polka dots or anything that resembles a circle. You want to mix circle like patterns with sharp line patterns. This is why you often see striped or checked shirts with polka dot ties. You want that contrast in pattern, and the matching aspect in the color.
There are a few exceptions… diagonal stripes on a tie often looks quite fun with a vertical striped shirt or a checkered shirt.
Another exception to the rule is pictured below with the eyeglasses print with the dot pattern tie. They are somewhat similar in shape, but it works because the contrasting colors match so perfectly.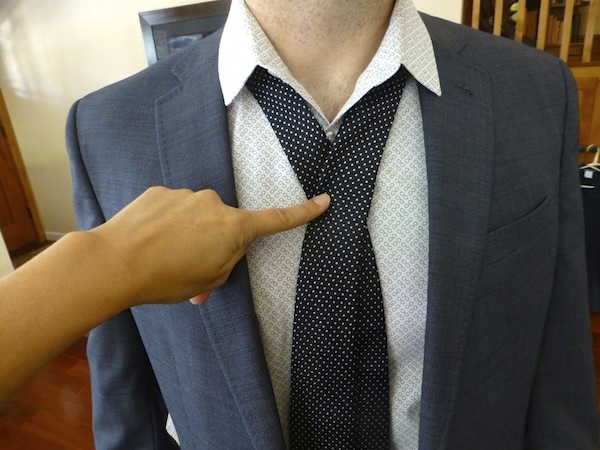 suit: Ted Baker, shirt: Boss, tie: Calibrate 
Stress Free Pairing (not pictured)
If you want a stress free pairing, pick out a neutral navy suit, pair it with a white shirt and just about any patterned tie that is not black. Just make sure the shine-factor works with the suit and tie width is correct for your body type. If you keep those two things in mind you will sail through getting dressed for that important meeting.
Image Source: Details Magazine
This post contains images of my clients. Images of my clients are never posted without my client's expressed permission.